Week 2, January 31st, 2022: Newsletter #1
Acknowledgement of Country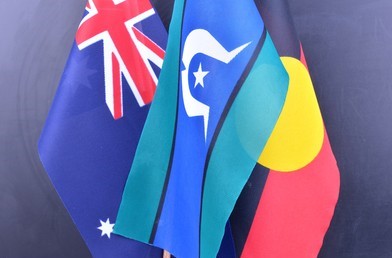 St. John's school community respect and honour Aboriginal and Torres Strait Islander Elders past, present and future. We acknowledge the stories, traditions and living cultures of Aboriginal and Torres Strait Islander peoples on this land and commit to building a brighter future together.
From the Principal
Good afternoon everyone and welcome to the 2022 school year.
Whilst we approach this year with a great deal of uncertainty I can assure you that the learning program we offer for all children at St. John's will be vibrant, inclusive and specifically tailored to the children's needs.
As parents and guardians, I encourage you to take an active interest in the life of our school and take the opportunties to become engaged in facets of your child's education.
Lets get set for an amazing year!
Enjoy the week ahead, Ben.
Daily Bell Times
As a means to try an optimize learning for all children, we have amended our bell times for 2022. Our bell times for the day will now operate as follows;
8.50am – 9.10am – Homerooms
9.10am – 10.00am – Learning Block One
10.00am – 10.50am – Learning Block Two
10.50am – 11.25am – 1st Lunch (the children will eat from 11.15am-11.25am)
11.25am – 12.15pm – Learning Block Three
12.15pm – 1.05pm – Learning Block Four
1.05pm – 1.40pm – 2nd Lunch (the children will eat from 1.05pm-1.15pm)
1.40pm – 2.30pm – Learning Block Five
2.30pm – 3.00pm – Learning Block Six
3.00pm – 3.15pm – House Groups Fitness
3.15pm – 3.25pm - Homerooms
3.25pm - School Day concludes
School to Parent Communication
Newsletter: the Newsletter is published weekly on Mondays and is available on our website distributed directly to all families via PAM. The newsletter carries the bulk of our news and information about what is happening at St. John's. It is the main way parents/guardians can be informed about coming events, student and teacher achievements.
Schoolzine App: the school app is the simplest way to receive short messages, reminders, or emergency information direct to your mobile phone. The Schoolzine App can be downloaded free from either Apple App Store or Google Play and then once installed, search for 'St. John's' Primary School Dennington'.
Facebook: Facebook allows us to share many of the wonderful stories about what's happening at our school including individual and team achievements. As a parent/guardian, we encourage you to also join our closed Facebook community.

Specialist Subjects
As promoted in 2021, we have amended the subjects we run as specialaist subjects to focus specifically on gaps in our curriculum and to assist the children to develop their skills in all facets of the curriculum.
In 2022, all children will participate in the following subjects which will complement their classroom program.
Each child will have a 50 minute weekly lesson in the following subjects; Visual Arts, Performing Arts/Music, STEM, PE and Japanese.
Our Gr 3-6 children will have these classes on Thursday and Gr F-2 children will have these classes on Friday; please ensure you have your child wearing their PE uniform on their specialist day.
Rapid Antigen Tests
We received a delivery of RAT tests on Friday afternoon. We did not receive our full allocation therefore at the moment there is one pack (5 tests) available for each family. Tests can be collected from the front office. We are encouraging testing in the mornings before school, preferably Monday and Wednesday (Monday and Thursday for Foundation students). It is important to remember testing is encouraged, not compulsory. Please notify the school if your child receives a positive test only.
Financial News
Financial Information & Support
If you hold a current Pension or Health Care Card, you may be eligible for one of the following support programs. If you do think this applies to you, please speak with our Office staff.
Family Fee Assistance Scheme ~ are you eligible?
The Family Assistance Scheme, designed by the Catholic Diocese of Ballarat offers a tuition fee concession to families who hold a current Health Care Card/Centrelink or Veteran Affairs concession card. Families who qualify for the scheme will pay $520 per annum for primary school tuition fees. The discounted fee covers tuition and capital fees only. It does not cover additional charges such as camps, student fees and excursions.
Camp, Sports & Excursion Fund (CSEF)
Similarly, if you are eligible for the above assistance, then there is a strong chance you will also be eligible for the CSEF. This amount is aimed at offsetting the costs associated with any camps, excursions and sporting events that your child participates in.
Traffic Management
In light of increased enrolments and our Covid Safe plan we are trialling a new pick system at the end of each school day.
We are asking that families who use either of the loops to collect their children at the end of the day, do so as follows;
Families with surnames A-J use the Russell St Loop.
Families with surnames K-Z use the Coghlansd Rd Loop.
Please note that children who walk or ride home can use whichever exit suits them and families are still welcome to use the pencil path and park their cars in Russell St or do park and pick up in the Russell Street car park.
We understand that this system may be different for you but ultimately we are doing this to assist in maintaining a safe environment.
Happy Birthday
Happy Birthday to the following students who celebrated their birthday during January:
Kitana Seymour, Charli Fish, Ivy McNaughton, Bronte Thompson, Kade Faulkner, Mitchell O'Grady, Louie Brown, Ali Savage, Leo Eccles, Ava Stuart, Jacob Hose, Jackson Toogood, Jasper Fedley, Archie Speed, Isla Stacey, Ray Oakley, Lincoln Toogood and Chet McGennan.
Warm wishes to Mitchell Crothers and Raff Harris who celebrate their birthdays this week.
First Aid
Medical Details
It is important that we have up to date medical details for all of our students. Medical profiles on PAM were set to invalid at the end of last year for you to log in, update if required and revalidate. If your child suffers from Asthma we require an Action Plan, ventolin and a spacer to be kept here at school. If your child has been diagnosed with Anaphylaxis we require a Action plan and Epipen. All Action Plans must be signed by a doctor.
Sick Bay Visits
You will recieve a notification via email when your child visits the sickbay during the day. It will contain details of the incident and treatment. The visits are documented in PAM for you to view your child's history at any time. Rest assured, a phone call will also be made for all headknocks and if the injury is of a serious nature.
Lunch Orders
Lunch orders from the Dennington Store are available each Friday. Orders can be dropped directly into the store or into school by Thursday.
Parents and Friends
Please click on the link below to view information and important dates from the P & F.