Week 11, April 3, 2023: Newsletter #10
Acknowledgement of Country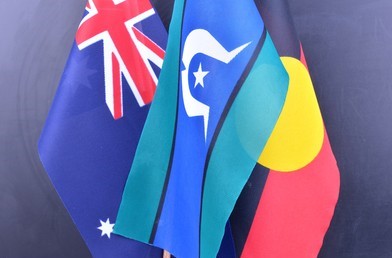 St. John's school community respect and honour Aboriginal and Torres Strait Islander Elders past, present and future. We acknowledge the stories, traditions and living cultures of Aboriginal and Torres Strait Islander peoples on this land and commit to building a brighter future together.
Week 11 Prayer
From the Principal
Easter & Holy Week: Starting yesterday with Palm Sunday, the Christian Church this week celebrates Holy Week. During this week we journey as a faith community through the days of tragedy and triumph that lead to the resurrection of Jesus Christ.
A key feature of this week is the Easter Triduum. The Easter Triduum refers to three days in Holy Week which together express the central mystery of our Christian Faith; the death and resurrection of Jesus Christ. It begins on Holy Thursday as we focus on Jesus' farewell words and deeds at the Last Supper. It moves to Good Friday when we ponder the events of his suffering and death. It climaxes with the Easter Vigil when we celebrate the liberation of humankind through Christ's resurrection. This 3 stage sequence of worship allows us to take in an enormous mystery in small, digestible chunks and to relate it to the various facets of our own lives- the sorrows, joys, success and failures. Of all the Church's celebrations throughout the year, the Easter Triduum is the highpoint.
Easter Liturgy: This year our Easter Liturgy will focus on the story of Good Friday which will be told by the children through The Stations of the Cross.
Our 3/4 children will lead this liturgy which will take you on journey helping you to understand the journey that Jesus took on Good Friday that ultimately lead to his crucifixion.
This liturgy will take place at the front of the school on Wednesday April 5th, with classes viewing during the following times; Foundation at 11.30am, Grades 1&5 at 12.05pm and Grades 2&6 at 12.40pm (please note times are approximate).
Families are welcome to attend.
Gr 5/6 Identity Expo: This Wednesday April 5th, our Gr 5/6 students will showcase their Identity Expo- this expo showcases who children are and what helps them learn, grow and be. It starts from 8.40am and will run until approximately 10.30am and will be held in the Gr 5/6 classes. Families are able to attend at any time between these times.
It's a great experience and I encourage all families to attend.
Project Compassion Liturgy: On Wednesday afternoon our students will gather in their House Groups to participate in an activity that will close our Lenten season- this will focus on Project Compassion. If any families have their Project Compassion boxes at home we encourage you to send them with your child on Wednesday where they will be given as part of our liturgy.
Easter Raffle & Final Assembly & End of Term: Our end of term assembly will take place on Thursday April 6th- this assembly will commence at 1.30pm and will include our Easter raffle. School will conclude at 2.30pm on this day.
Commencement of Term 2: Classes for Term 2 will commence on Monday April 24 @ 8.55am. Please also note the following dates where the students are not required to attend school.
Tuesday April 25th- ANZAC Day Holiday

Thursday May 4th- May Races Holiday

Friday May 5th- ReLATE Closure Day
Enjoy your week, Ben.
Lions Eye Health Program
Last week a consent form was sent home to the Grade 6, 3 & Foundation students to participate in this important program. Please note that this is an optional event. Please ensure forms are returned no later than Tuesday this week.
Sacrament of Reconciliation: This Wednesday!
We ask that our community prayers for the children receiving the Sacrament of Reconciliation this Wednesday. The children participating are: Mitchell C, Brooklyn P, Kade F, Ryan B, Chloe K & Lily V.
Direct Debit
For families on direct debit for school fees please be advised that your payment will be deduced on Thursday 6th April, due to the Good Friday public holiday.
Dennington ANZAC Day Commemorations
With ANZAC Day falling on the 2nd day of term 2 we are advising families of the local commemorations. Our children have been invited to join with the Dennington Community in commemorating those who served in all wars.
Our students are welcome to gather at 8.40am at the Dennington Kinder in their summer school uniform, we will then join in the parade before our captains lay a wreath at the memorial on behalf of our school community.
We have also beeen asked to lead the singing of the national anthem so all children in attendance will gather after the parade to do this. A staff member will coordinate this on the day.
Please note that there have been changes to the parade route which have been outlined below.
Please also note that all community members are invited to join in the Dennington Community Association breakfast which will run frrom 7.30am at the Payne Reserve BBQ area.
School Advisory Council- We need your help!
The School Advisory Council (SAC) is the leading advisory group for the Principal, as an active forum for parent and community participation, providing support and advice in strategic planning, school improvement, educational outcomes and stewardship of resources. Our SAC will hold its AGM on Tuesday April 4th and we will be looking to fill a vacancy created by Jen Milne who concludes her tenure. We are still yet to have a parent nomination for this position so if are tempted then please feel free to contact me or an existing SAC member (highlighted below) if you are interested in joining this parent body.
Existing SAC Parent Representative Members: Mary-Ellen Hose, Leah Kermeen, Ben Marsden, Jen Milne and Glenn Cuzens.
-----------------------------------------------------------------------------
SAC Nomination Form- please return to the office no later than Tuesday April 4th.
Nam of Nominee: ____________________ Signature: ____________________
Name of Nominator: __________________ Signature: ____________________
2024 Foundation Enrolments
We are now inviting current families only to complete enrolment forms for any 2024 Foundation students. Enrolments for all other Foundation families will open in May, 2023 where we will hold our information sessions.
Online Enrolments: All enrolments are now to be completed online and submitted electronically, we no longer offer hard copy enrolment forms. For this process, go to our school website and select the Enrolment Tab.
Under the Enrolment Tab you will notice Apply Now - select this and away you go. A tip with this one is do not use a phone or ipad to complete the form, any laptop or desktop computer will work best
You will also need to make sure you have your child's birth, immunisation, baptism certificates and any specialist reports loaded onto your device, either by taking a photo or scanning and uploading as you will be required to upload this documentation. Should you have any queries, please do not hesitate to contact the office.
Project Compassion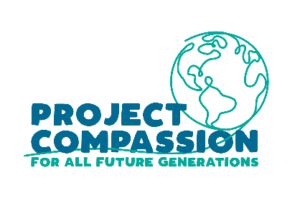 As the Season of Lent draws to a close we continue to focus on almsgiving. A program that we support at St. John's is the annual Caritas Australia Project Compassion Appeal. Donations to Project Compassion allows Caritas Australia, the Catholic Agency for International Aid and Development, to work with local communities around the world to alleviate poverty, hunger, oppression and injustice.
We encourage you to put your compassion into action this Lent through your prayer, fasting and almsgiving by supporting Project Compassion. Project Compassion boxes have been distrubuted to families for their donations, if you did not receive one please feel free to drop some coins off at the office or you can donate online via the Caritas Australia website at: lent.caritas.org.au
Important School reminders
Russell Street Crossing: If parents and children are needing to cross Russell Street then it must be done at the supervised pedestrian crossing. This is the only safe place to do.
Parking: Please refrain from parking in the designated disability car spaces in the carparks if you do not have a sticker displayed on your vehicle. It is important these spaces are reserved for families that need them.
We also ask that if you have to hop out of the car to assist your child into the car that you park your car and collect them rather than hold up the loop.
Student Messages: Please ensure change of pick up arrangement messages etc are received by the office ideally by 3.00pm and no later than 3.10pm to allow office staff adequate time to pass them on to students.
Camps Sports and Excursions (CSEF): A reminder to hand in your CSEF application forms with a copy of your concession card. Families that submitted them last year and have no changes (new students starting) are not required to complete a new form. Forms are available to download from the Schoolzine app.
Parent Participation Levy: Please ensure you record the activity and the amount of hours you volunteered your time for on the following form - Parent Participation Levy Activity Record
Assembly: Is held every Friday in the Stadium at 2.45pm. Parents are most welcome to attend. Please note due to the end of Term, this week Assembly will be held on Thursday at 1.30pm with dismissal for the holidays at 2.30pm.
Student News
Something very exciting happened in Lottie's family a few weeks ago, they welcomed six brand new sausage dog puppies from their beloved family dog Luna! Aren't they adorable!
Lottie has been an excellent helper to her family making sure all the little puppies are feeding properly. They are all happy and healthy and are actually for sale, if you are interested you can contact the office and we will pass your details on.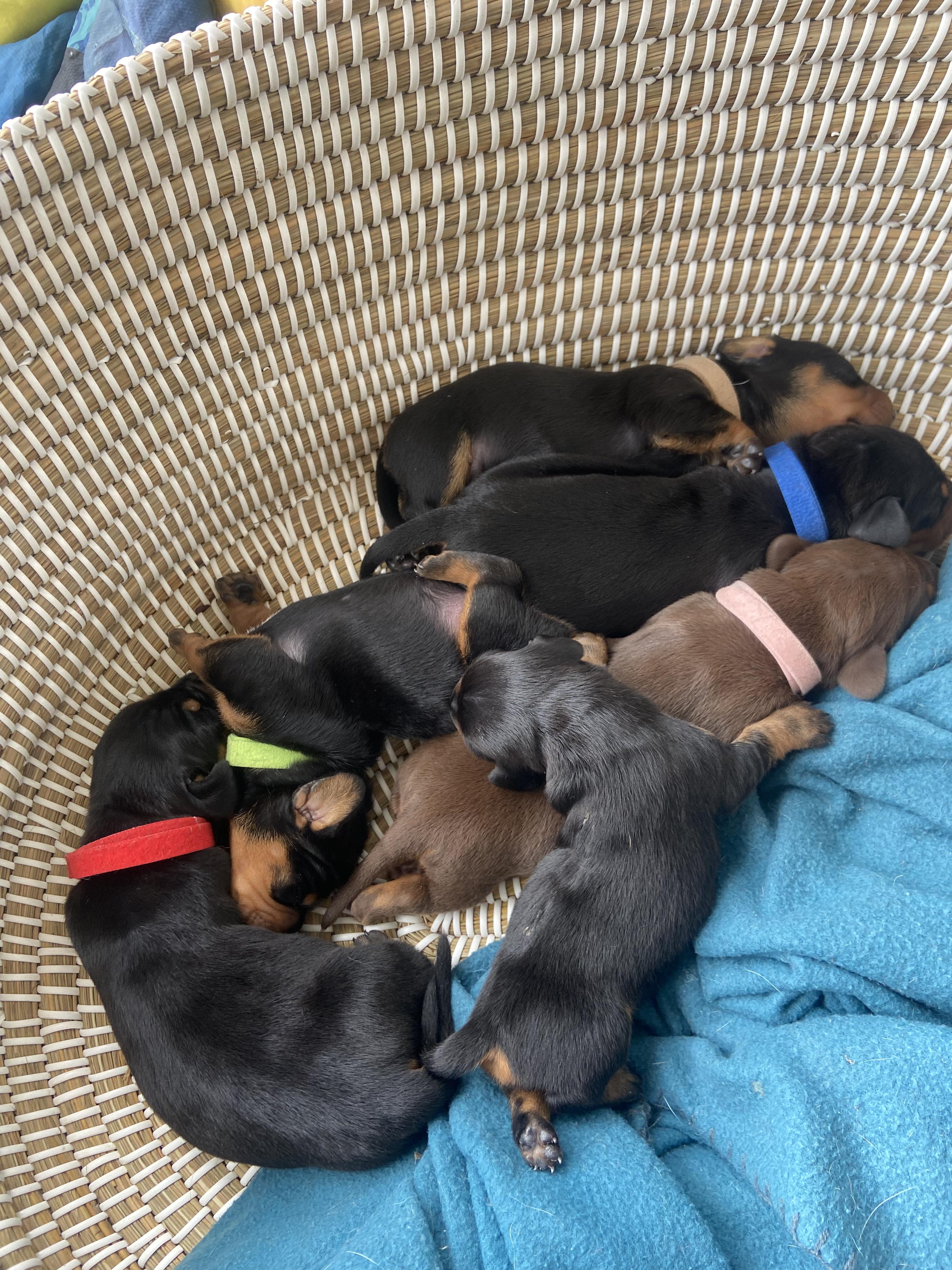 If you have some news you would like to share with our school community we would love to hear about it. Please email admin@sjdennington.catholic.edu.au
NCCD
Happy Birthday
Best wishes to Lily V, Archie D, Zariyah Q, Jackson B, Marcus F and Austin M who celebrate their birthday this week. We hope you have a terrrific fun filled day!
Student Awards
Parents and Friends Social Group News
Parents and Friends Social Group Meeting
Our next meeting will be held Monday May 1st at 7.00pm in the Gathering Space. We encourage you to come along and bring a friend to see how laid back yet informative our meetings can be.
Easter Raffle
Raffle tickets and prize donations are due back TOMORROW.
There are spare raffle books available at the office if you wish to purchase more tickets or have misplaced your booklet.
The raffle will be drawn at our final Assembly for the Term on Thursday 6th April at 1.30pm in the stadium.
Dennington Day Out
The 2023 Dennington's Day Out Committee has now commenced planning of this year's major fundraising event for our school. After such a successful 10th year celebration of our DDO event in 2022, we are now inviting any families within the St. John's school community, involved in small or large business, to consider the below Corporate Sponsorship packages.
It is with the assistance of family businesses within the school, and other local businesses within the greater community, that this school fundraiser continues to be successful. The DDO event is such a fun, family friendly and highly anticipated occasion each year and the 2023 DDO Committee are looking forward to hosting the best Dennington's Day Out to date!
This year's DDO will be held on Sunday 12th November. For further information, or to discuss the Corporate Sponsorship packages below, please contact ddo@sjdennington.catholic.edu.au
The next meeting will be held on Wednesday 26th April in the Gathering Space at 7.00pm. Come along to be part of planning our HUGE annual event!
Wednesday Treats
Wednesday Treats are available for families to order on most Wednesdays in Term 2 and Term 3. In order to run Wednesday Treats, we need volunteers.
Volunteer notes were sent home last week and are due back this week in order to put together the roster. This is a great opportunity to meet other parents within the school and the kids love their warm treats during the colder months.
Cake Raffle
Each week on a Friday, families are rostered on to bring in a cake which will then be raffled and drawn out at Assembly. All funds raised throughout the year will be donated to the Good Friday Appeal the following year.
If you happen to be rostered on for a school closure day then you are not required to bring a cake in.
All students will have the opportunity to buy a raffle ticket for 20c each Friday. The Johnnies will come around to the classrooms during the day to write out tickets and collect money.
The following families are rostered on this Friday:
Roney, Romanes, Reid, Raitt and Quarrell.
Star of the Sea Bulletin
Sunday Mass is held at 10.00am at St. Pius X Church. School families are always welcome.
The Parish office can be contacted on 5562 2231 and this weekends bulletin is featured below. Other information and contact details can be found on the Star of the Sea South West Coast website: https://www.ballarat.catholic.org.au/parish/southwestcoast/
School Sponsorship
Would you like to advertise your business in our school newsletter? Businesses can advertise for only $100 a year and will have a business card sized listing in every school newsletter. Please contact parents@sjdennington.catholic.edu.au for more information.
A big thank you to Fry Painting, O'Brien Electrical Warrnambool, Brownies Shed and Tubbie & Rayz Indoor Batting house who sponsor our school!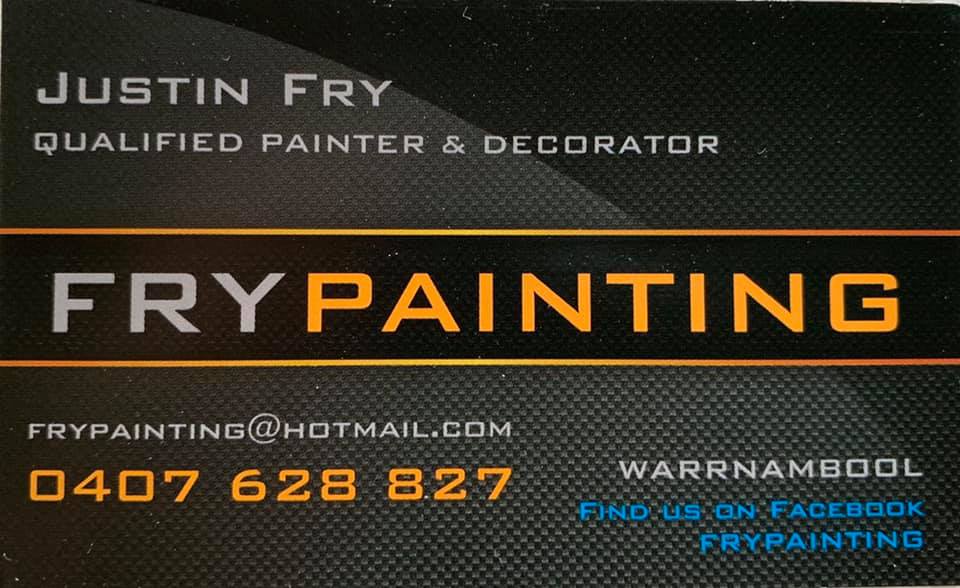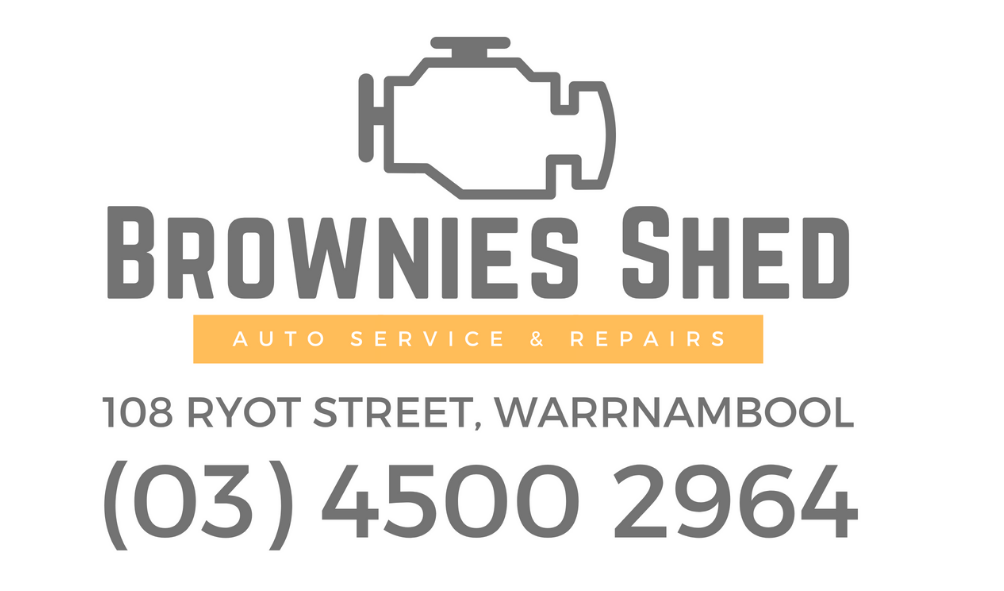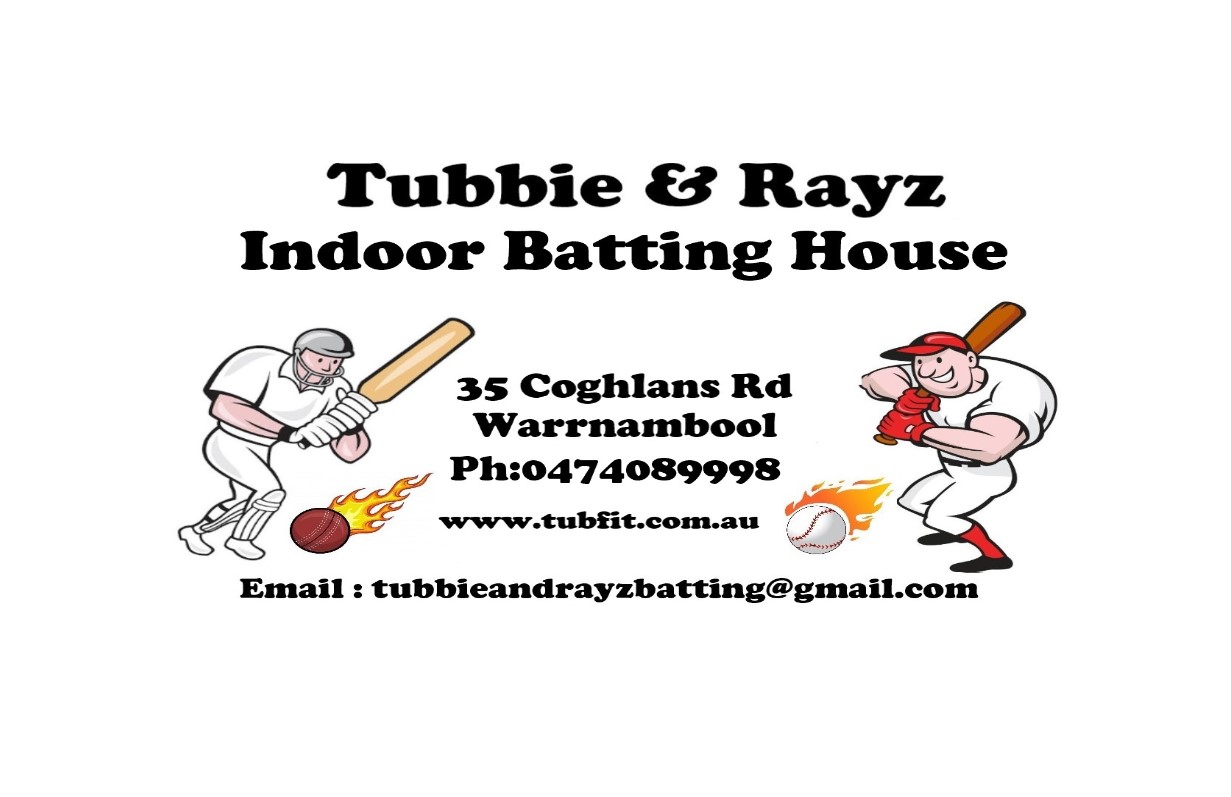 Emmanuel Enrolments
Holiday Programs
Community Notices
Upcoming Events
Wednesday 5th April: Sacrament of Reconciliation
Thursday 6th April: End of Term One and Easter Raffle Draw. School concludes at 2.30pm.
Monday 24th April: Term 2 Commences
Tuesday 25th April: Anzac Day Public Holiday
Monday 1st May: Parents and Friends Social Group Meeting, 7.00pm in the Gathering Space
Thursday 4th May: May Race Day Public Holiday
Friday 5th May: School Closure Day
Tuesday 9th May: District Cross County at the Warrnambool Speedway
Wednesday 10th May: Mother's Day Stall
Wednesday 10th May: Wednesday Treats begin