Week 8 November 20th 2023: Newsletter #37
Acknowledgement of Country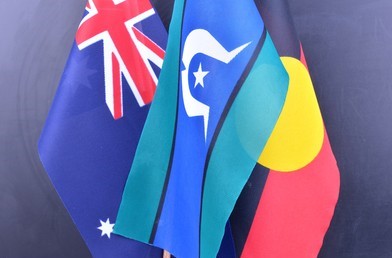 St. John's school community respect and honour Aboriginal and Torres Strait Islander Elders past, present and future. We acknowledge the stories, traditions and living cultures of Aboriginal and Torres Strait Islander peoples on this land and commit to building a brighter future together.
Week 8 Prayer
From the Principal
2024 Grade 6 Japan Trip Information Session
To gather more information about the trip please attend the following session.
4:00pm - 5:00pm, Wednesday 22nd November
St. Joseph's Primary School, 70 Botanic Road, Warrnambool.
The aim of this meeting is to present information regarding the proposed Japan Trip for students in September 2024. (Year 6 students, and the possibility of Year 5 students which is to be confirmed)
We are currently gathering details about pricing, and will have more information regarding this at the meeting.
Enjoy your week, Ben

Walk to School- Final Week
We encouraged students to walk, ride, scoot or skate to school for the entire month of November. Thank you to the families who supported this initiative.
This Friday is our final Walk to school day. We are aiming to have our biggest group yet!
Meet at the Dennington Store in Drummond street at 8.10am Friday to leave at 8.20am sharp.
Grade 5/6 Camp Reflection
Our 5/6 students and teachers went to the Roses Gap camp on Monday 13th November. Here are some key events that happened during our camp.
On day two we rode the bus for 2 hours 30 minutes and we stopped in Lake Bolac, for a snack and toilet break. When we got to the camp at 12:00pm we had a quick briefing then we went off to find our cabin and to gather the resources we needed for our activities. We were put into groups with different teachers that took us along for the activities. There were seven rotations that put us out of our comfort zone. Those seven were canoeing, raft building, abseiling, giant swing, flying fox, low ropes and archery. Three activities needed harnesses, those were abseiling, giant swing and the flying fox. They were the most challenging. All groups did different things on Day 1.
Canoeing, raft building and low ropes all used teamwork. Low ropes was kind of like a rope course and you had to help our teammates out with some of them. The raft building was where you had to build a raft and get it out into the lake, to the island in the middle and back to shore. Canoeing was where you had a partner and you did races and games in the canoes. We didn't have to walk that far to get to those as they were all in the campgrounds. The giant swing and flying fox were also in the camp grounds, but they had a separate activity ground since they could harm other people if you walked into the wrong area.
After the two activities in the morning we had morning tea which were slices and fruit. The slices were different, there were the Anzac, apricot and the gluten free slices. Then we finished up since we only did two activities on the day. We all came back to our camp which was called the Wallaby camp. People showered and changed while others did free time. We went off to have dinner which was chicken schnitzel, scalloped potatoes and veggies which were carrots, peas and corn. There was sauce and cheese for the schnitzels. After dinner we had dessert which was ice cream with apple crumble. Then some people stayed back and cleaned up after everyone. We went to bed around 10:30pm ready to be fresh for a new day.
On day two, we did four activities, but before we did any we had breakfast, which was toast and cereal of your choice. For the toast there were different spreads for your liking. We finished up eating and another group stayed back to clean up. We lined up at these poles that told us which activity we were going to. Some other activities people did were the flying fox, abseiling and the giant swing. Abseiling was where you had to put on a harness and climb up a mountain. The instructors were very serious about keeping us safe which I was glad. When we got to the top of the mountain, we had a safety rope tied onto us and another we were attached to another rope to make sure we won't get harmed. Then you had to climb down. It took 3 hours for everyone to get their harnesses on, get to the top of the mountain, climb down, and go back and take off your harnesses.
The giant swing is where everyone had to help out and pull you to the top or whatever level you wanted to go on. Purple was the highest level. When you reach where you wanted to go up to you pull a pink rope and drop, but don't worry you're safe since you have a strong harness and ropes on you. The Flying Fox was where you had to take a rope up to the tall tower and then you would go up a ladder and jump of when the rope is on you, then you would go down the Flying Fox and you had to drop a rope at a mat so a teacher could grab it and take the rope of you so you're not attached any more.
Day three we packed up, got ready and made sure we didn't forget anything. Before we left we had two more activities left to do. Then we got handed lunch and left. We arrived at school at 3:15pm and left to go take a long rest.
Our final thoughts on camp was it was tiring but it was really special that we got to go and we had an amazing time with all the 5/6 crew. We would love to go back again.
By Chloe Kermeen and Sapphire King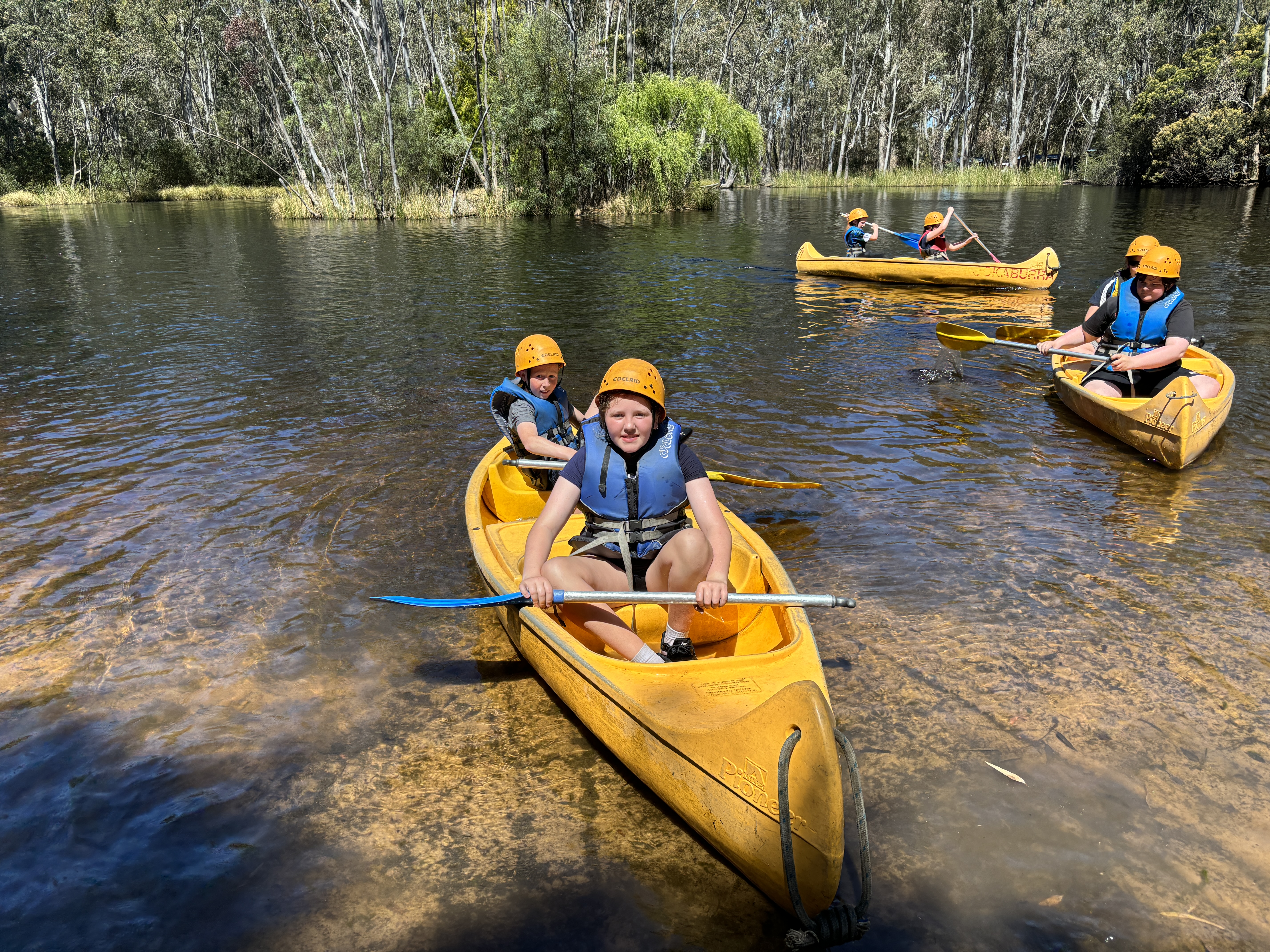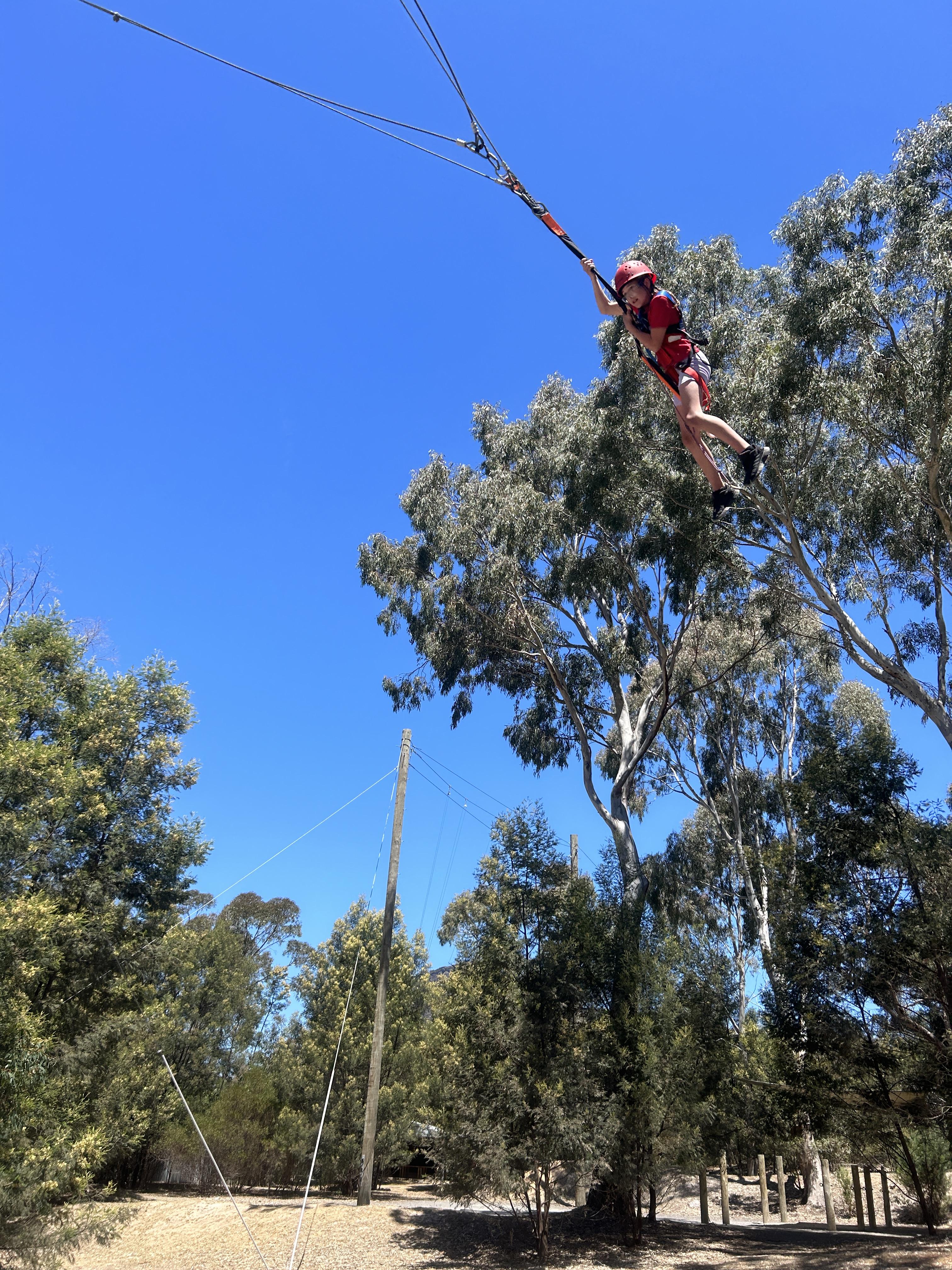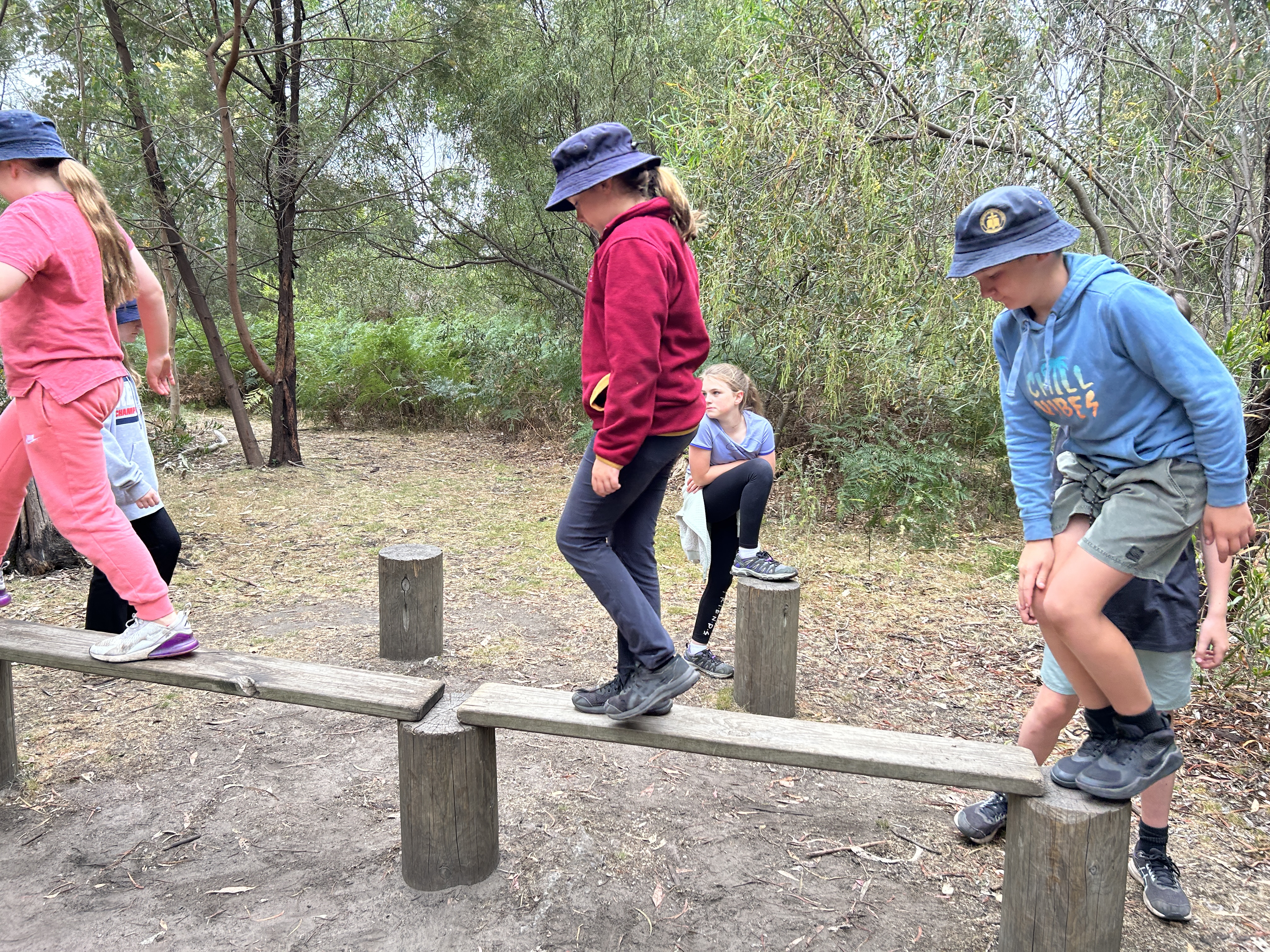 Prev
Showing images
1 - 8
of 24
Next
Around our School- Week 7
Prev
Showing images
1 - 8
of 15
Next
Student Awards- Week 7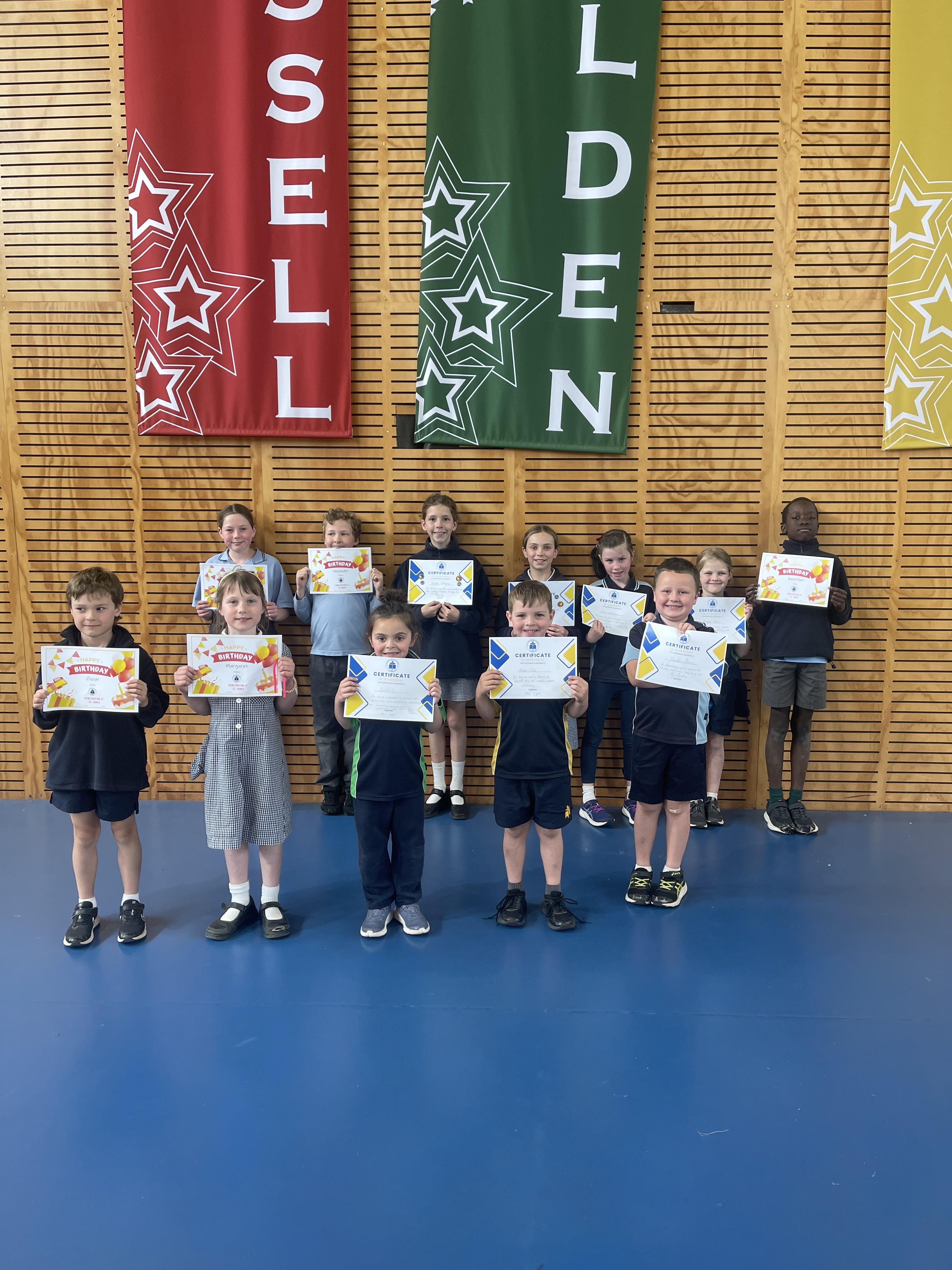 Happy Birthday
A very big Happy Birthday to Thomas C, Louis D, Chad G, Cooper G, Jackson P, Noah C, Chantelle S, Leo R and Macy M who celebrate their special day this week! We hope you have an amazing day.
Parents and Friends Social Group News
Meeting
Our next meeting will be held THIS Tuesday 21st November at 7.00pm in the Gathering Space. Everybody welcome!
Bunnings BBQ
We have been lucky enough to secure a date for Bunnings BBQ during the busy season and now need volunteers to man the stall on Saturday 2nd December. This event is for adults only and children are not permitted to help on the day.
Please click the below link if you or a family member are able to assist on the stall during the day. We will have a facebook post closer to the date looking for any final donations needed.
Carols by the Merri
Carols by the Merri will this year be held on Friday 1st December and we need your help!!
Please click on the link below to volunteer your time in our cake stall or to help bake the many slices needed to sell on the night. This is the perfect event to volunteer for as all children perform on the night.
Cake Raffle
Each week on a Friday, families are rostered on to bring in a cake which will then be raffled and drawn out at Assembly. All funds raised throughout the year will be donated to the Good Friday Appeal the following year.
All students will have the opportunity to buy a raffle ticket for 20c each Friday. The Johnnies will come around to the classrooms during the day to write out tickets and collect money.
The following families are rostered on this week:
Brooks (Aurora), Bridgman, Bray, Boyle and Boreham.
School Sponsorship
Would you like to advertise your business in our school newsletter? Businesses can advertise for only $100 a year and will have a business card sized listing in every school newsletter.
Please contact parents@sjdennington.catholic.edu.au for more information.
A big thank you to Fry Painting, O'Brien Electrical Warrnambool, Brownies Shed, Tubbie & Rayz Indoor Batting house and Carry On Travel who sponsor our school!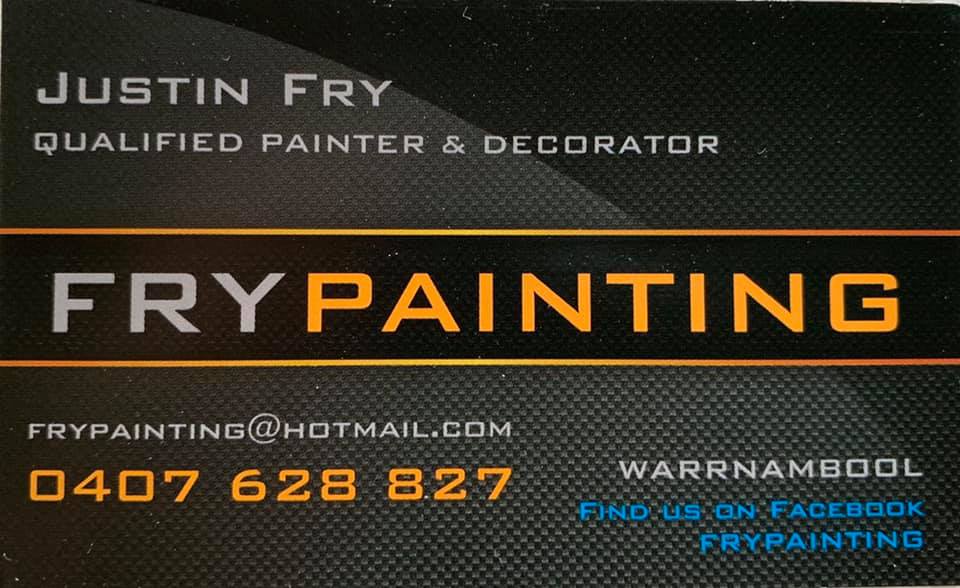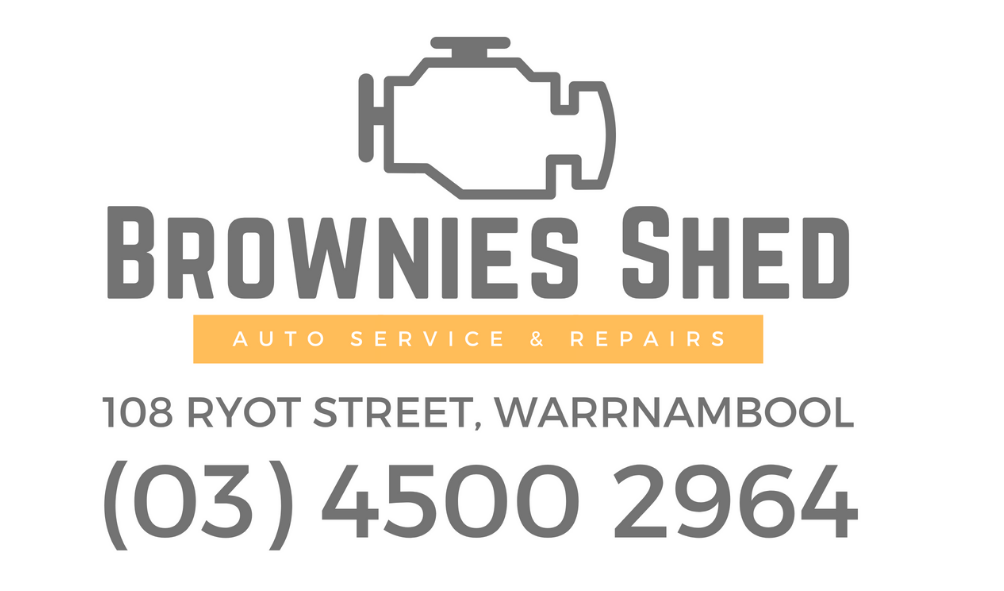 Star of the Sea Bulletin
Sunday Mass is held at 10.00am at St. Pius X Church. School families are always welcome.
The Parish office can be contacted on 5562 2231 and this weekends bulletin is featured below. Other information and contact details can be found on the Star of the Sea South West Coast website: https://www.ballarat.catholic.org.au/parish/southwestcoast/
Community Notices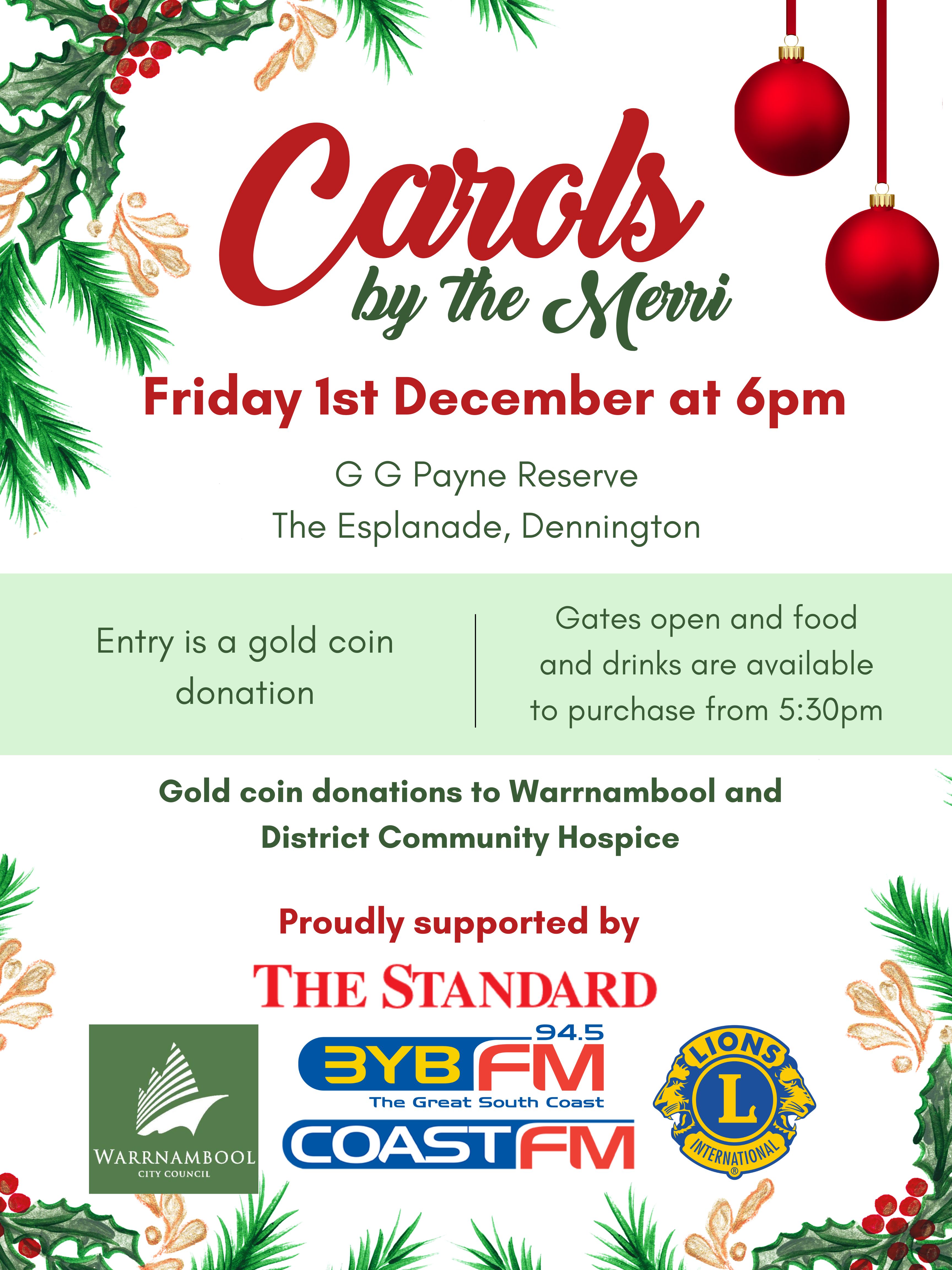 Important School reminders
Russell Street Crossing: If parents and children are needing to cross Russell Street then it must be done at the supervised pedestrian crossing. This is the only safe place to do.
Parking: Please refrain from parking in the designated disability car spaces in the carparks if you do not have a sticker displayed on your vehicle. It is important these spaces are reserved for families that need them.
We also ask that if you have to hop out of the car to assist your child into the car that you park your car and collect them rather than hold up the loop.
Entering the School Buildings: All visitors during the school day must enter via the front office. This includes children late to school.
Student Messages: Please ensure change of pick up arrangement messages etc are received by the office ideally by 3.00pm and no later than 3.10pm to allow office staff adequate time to pass them on to students.
Student News: If you have some exciting news you would like to share with our school community we would love to hear about it. Please email admin@sjdennington.catholic.edu.au
Parent/School Communication: When contacting school staff please refer to our Communications Guidelines for the appropriate processes, this can be found under the forms and documents tab on our schoolzine app and in the Parent Information tab in PAM.
TheirCare: To make a booking with TheirCare, our outside school hours care provider please click on the following link and select St. John's Dennington as the booking location https://theircare.com.au/ 
Upcoming Events
Tuesday 21st November: P & F Meeting at 7.00pm in the Gathering Space.
Thursday 30th November: Foundation Extended Stay program
Friday 1st December: Carols by the Merri at 6.00pm (Our children are performing at this)
Saturday 2nd December: Bunnings BBQ
Monday 4th/Tuesday 5th/Wednesday 6th/Friday 8th December: Gr 5/6 Surf Awareness program
Thursday 7th December: Gr 1/2 Extended Stay program
Tuesday 12th December: Orientation Day
Wednesday 13th December: Mass of Thanksgiving at 10.00am
Thursday 14th December: Gr 6 Graduation Ceremony
Friday 15th December: Term 4 concludes at 3.20pm
Tuesday 30th January 2024: F-6 Classes Commence